I can't leave well enough alone, I know this. Anyone that visits our house knows this. There is just something about tinkering that I can't get enough of.
So when we finally made the jump to a 42″ inch LCD about two years ago I couldn't help but start scheming.
Sure, the digital cable box from our provider was OK. The menus look nice, you can rent last years movies, and they only freeze up one or ten times.
I wanted something better, much better. This meant building it.
Building a home theather PC is not cheap. Sure, you can do it cheaply, but with the rich world of HD media we have today it has to be done right.
I won't get into the nitty gritty tech behind the curtain but I will include a few teasing pictures and a quick run down.
What we did to keep everything tidy was to mount a laptop to the back of our T.V.
It's just powerful enough, being a dual core Athlon with 4GB of ram and a decent onboard video adapter. We picked up a digital/analog cable tuner which we now use for both watching and recording TV.  Did I mention we won't ever run out of recording room? Even if we did fill the 320GB hard drive, we have almost four terabytes of network storage. This has allowed us to do away with physical media entirely. I can't recall the last time I actually held a movie in my hands, or drove somewhere to get one for that matter. Everything is either streamed or archived to storage on our network. That means every DVD and Bluray movie we purchased in the last 4 years is just a button press away. The discs are in a giant binder under our bed, collecting dust like any antiquated technology should.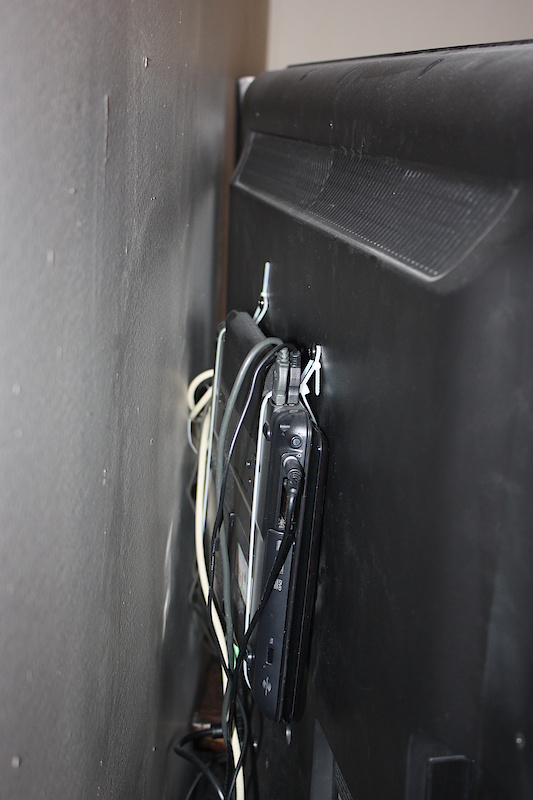 Many people opt for a clunky wireless keyboard and mouse but we went a step further and picked up a remote tailored for media centers along with an IR receiver. Anyone can sit down, pick up the all familiar clicker and start channel surfing. Of course they can also check the weather, find a movie, listen to our music collection, tune into local radio (or a station in Sweden), browse our personal photo collections, or even play a game. Did that list seem intentionally long-winded?
The laptop, of course, feeds video into our T.V. at 1080p and audio out to both a stereo and 5.1 system.
Running this machine is Windows 7. More specifically Windows Media Center. A number of plugins such as Netflix and a Home Server connector link us to both locally stored media and streaming movies online.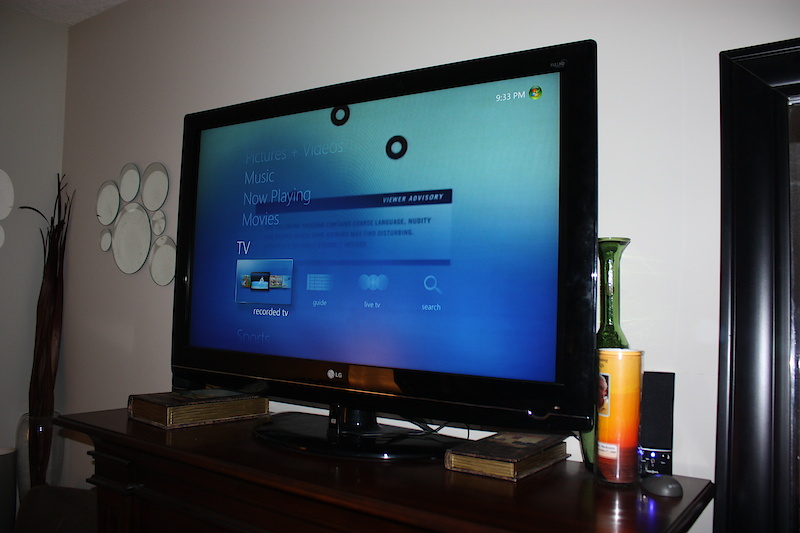 While the main goal was to drastically increase the functionality of our home theatre, I was also not about to sacrifice any features provided by the generic cable box. Nothing has been lost. In fact, we get programming schedules weeks in advance now as opposed to a few days. So yes, we have the American Idol season finale already set to record. Seriously though, too bad they picked Jenifer Lopez to be a judge!?
All in, a similar setup (minus audio and T.V.) can be done for a little over a thousand dollars. That probably sounds a bit steep, but when compared to the very limited DVRs currently available from Canadian providers it comes in much cheaper for the features.
While it may be some time before we see more support in the form of systems like CableCard from Canadian providers and the CRTC, you can break away from your cable box. It is well worth the work.
Next time I'll touch on how I change channels, set recordings, and watch my home TV and movies… from work. Don't tell Dave though, its our little secret.